October 2020
Welcome to the Fall 2020 edition of Big Lick Vet's newsletter! Our goal with this newsletter is to provide our clients with information about what's been happening here at Big Lick Vet for the past few months, what's coming up, and our specials/promotions. We also want to provide you with information that's relevant to you and your pets, like recalls, alerts, and educational information. Thank you for choosing us as your pet's veterinary care provider! You can also visit our website to stay up to date on what's going on at Big Lick Vet between newsletters!
News:
Updated Covid-19 Protocol
First, we want to send out a huge THANK YOU to our incredible clients for their patience and understanding during this unusual time. We understand that curbside service hasn't been easy for you and we hope you know that it hasn't been easy for us either. We look forward to the day when things can go back to normal. In the meantime, we can't tell you how much we appreciate you working with us.
We want to update you on some small changes to our current Covid-19 protocol:
The health and safety of our clients and staff has been and continues to be our number one priority. We plan to continue curbside service for the majority of our appointments, however Monday through Thursday, Dr. Amos and Dr. McLaughlin will each have a very limited number of appointments available in-clinic. Please be aware that due to the limited nature of these appointments, the wait for an in-clinic appointment may be much longer than it would be to have your pet seen for a curbside appointment. If you would like to request an in-clinic appointment, please let the receptionist know when scheduling your pet's appointment.
For in-clinic appointments, the following protocols must be followed:
All clients who enter the building will be required to answer a series of screening questions over the phone prior to entry.
Only one client per pet is allowed in the building for an in-clinic appointment.
All clients who enter the building will be required to wear a mask, sanitize hands upon entry, and maintain social distancing.
In addition to maintaining social distancing, we ask that you please stay seated in the exam room at all times.
Clients with in-clinic appointments will still need to stay in their car and call upon arrival. A technician will guide you on when to enter the building.
We are also encouraging clients to hand off their pets in the lobby for all appointments. If you would prefer to have a technician come to the car to get your pet, we're happy to do so, so please just let your technician know! We are still asking clients to call upon arrival. A technician will take a history and then let you know when you can come to the lobby to hand off your pet.
We look forward to the day where we can welcome everyone back inside Big Lick Vet! In the meantime, thank you for your patience and understanding. We truly have the best clients and we appreciate your continued loyalty, referrals, and support.
Curbside Concierge Service and Low Contact Appointments
In an effort to keep our staff and clients safe and to minimize human to human contact, we are continuing a curbside concierge service and low contact appointments. We are asking clients NOT to enter the building at this time until a technician lets you know it's okay to do so. If you need to pick up food or medications, simply call us when you arrive at 540-776-0700 and one of our staff members will take payment over the phone and then bring your items out to the car for you!
We are also offering drop off and low contact appointments for any other visits, the details of which are outlined in the image below. We know how strange and difficult it must be for our clients to stay out in their car and not be by their pet's side during their vet visit. It's weird for us too! But we assure you that we're giving your pets even more love and assurance than usual to help them adjust to this change! If you have any questions or concerns regarding our curbside concierge service or low contact appointment, please call us at 540-776-0700, and we'll be happy to discuss them with you. Again, we thank you for your understanding and cooperation.
FREE DELIVERY of Your Pet's Food!
Did you know you can support our small, locally owned business AND have your pet's food shipped to your front door for FREE? With Purina Pro Plan Vet Direct you can get free delivery with no shipping minimums on every single order. Just click the link below to sign up and start ordering!
Purina Pro Plan Vet Direct
Support us AND enjoy FREE SHIPPING to your house through Pro Plan Vet Direct.
Our Clinic ID is TMFHI.
Pro Plan Vet Direct Discount Codes (One Use Per Client):
-Use code FALLSAVE15 to take 15% off your first purchase of any one diet
-Use code TAKE30 to take 30% off your first automatic shipment order
-FREE SHIPPING on all Pro Plan Vet Direct orders – No minimum and no code needed!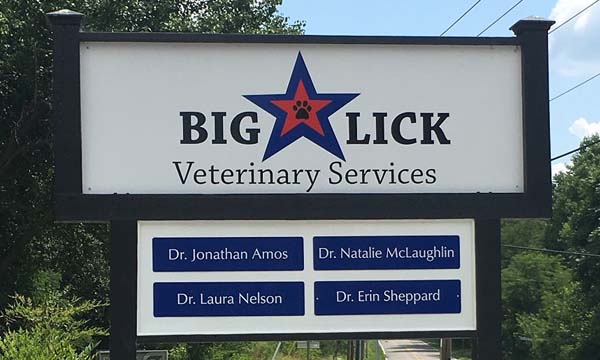 Our Business Hours:
Monday: 7:30am – 5:30pm
Tuesday: 7:30am – 6:00pm
Wednesday: 7:30am – 5:30 pm
Thursday: 7:30am – 5:30 pm
Friday: 7:30am – 5:30 pm
Promotions:
Due to popular demand, we're continuing our Client Referral Program through the end of 2020! It means the world that you would recommend us to your friends and family, and this is our way of saying thank you! When you refer a friend to Big Lick Vet, and they mention your name when scheduling or checking-in for their first appointment, we will provide you both with a $20 credit on your account to use towards your next visit.
In light of everything going on and the changes we've had to make to our day to day operations, we've made the decision to postpone our upcoming promotions so that as many of our clients as possible can take advantage of them. We look forward to sharing them with you when things get back to normal! Hint: we'll be raffling off a Yeti cooler soon!
To learn more about our specials and promotions, check out the Specials page on our website.
This September and October we are holding a raffle to win a Tundra 65 Yeti Cooler in Desert Tan valued at $350. All you have to do is protect your pet from common pests and parasites by purchasing a six month supply or twelve month supply of Bravecto or Sentinel. A six month supply will get you one raffle ticket and a twelve month supply will get you three raffle tickets!
The drawing runs through October 31st and the drawing will be held on Monday, November 2nd. The winner will be informed by phone and announced on social media. To order Bravecto or Sentinel for your pet, call us at 540-776-0700!
From Our Blog:
We're excited to announce that Big Lick Vet is now offering Cryosurgery! You might be asking yourself what exactly Cryosurgery is, so let us tell you all about it! Cyrosurgery involves the use of powerful instruments to treat benign skin lesions extremely accurately, quickly, effectively and painlessly – without anesthetic.
In a matter of seconds, we can permanently remove most common animal skin pathologies, such as warts and small skin tumors, tumors in the mouth, adenoma, perianal adenoma, ear tumors, epulides, sarcoids, aberrant or extra eyelashes (distichiasis), and more. The best part about it is that it involves no anesthetic and involves minimal stress and discomfort for our patients – and their owners! With the Cryoprobe instrument, we can treat skin problems quickly, painlessly, and at a lower cost than traditional surgical methods. Call 540-776-0700 to schedule an appointment for your pet!
It's impossible to predict when, how, or to what severity your pet will get sick or how much it will cost. Pet insurance prevents you from having to take on lasting debt or forgo veterinary care. We want your pet to be as happy and healthy as possible and believe that removing financial barriers from important pet care decisions is a key step toward this goal.
Pet insurance ensures your pet will always receive the care they need and difficult decisions won't have to be made for financial reasons. The only way your vet benefits from pet insurance is that they get to practice the highest quality medicine and focus on patient care rather than finances.
Companies like Trupanion are revolutionizing the pet insurance industry by offering Vet Direct Pay. With the Vet Direct Pay program, insurance can pay the hospital directly in minutes, leaving a pet owner with just their portion of the bill at checkout. There are no upfront payments for the full bill, no claim forms to fill out, and no waiting for reimbursement checks.
The love and bond we share with our animal companions is intense. To most of us, our pets are so much more than "just a dog" or "just a cat"; they're beloved members of our family. They bring so much to our lives – fun, companionship, joy, a sense of meaning or purpose, structure, activity, and social interaction. It's only natural that losing a pet causes intense grief and sorrow. Research shows that grieving the death of a pet can be just as painful, if not more painful, as losing a loved one.
Pet owners also report that they don't feel that they're given as much support when a pet they love dies as when a person they love dies. There is a lot of room for society to grow in how they acknowledge pet loss and the grief that comes with it. But that doesn't mean that your grief is not valid and that your pet's life wasn't valuable and meaningful. It's never easy to lose a beloved member of the family but there are some things we can do to cope with the loss.
See these blog posts and more on our blog.
 Follow Us On Social Media!
Make sure to follow us on Facebook, Twitter, Instagram, and Pinterest – @biglickvet – to keep up with the latest updates, as well as educational posts, food recalls, promotions, and fun pictures and videos!
Please feel free to call our office at 540-776-0700 with any questions, concerns, or needs you might have! We look forward to continuing to provide the highest level of veterinary medicine along with friendly, compassionate care even during this unusual time. Thanks for choosing us to be your pet's health care provider!
Your Friends at Big Lick Veterinary Services